Receptionists
Tanya
Meet Tanya!
She spent her childhood on a farm in South Louisianna and always wanted to work at an animal hospital. In 2012, she was given that opportunity at a clnic in her home state before moving to Texas in 2016. She loves her job and has been known to nurse baby rabbits, squirrels, raccoons, puppies, and kittens.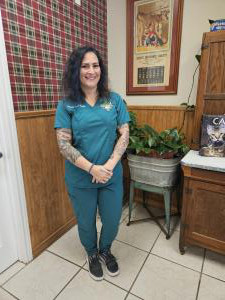 Meredith
Meet Meredith!
She's been with us for just over a year and started off as one of our clients! She moved here from Arizona and has 3 dogs, Mako, Bodhi, and Kunu, she loves coffee and enjoys crafting and making custom mugs and yeti cups in her spare time.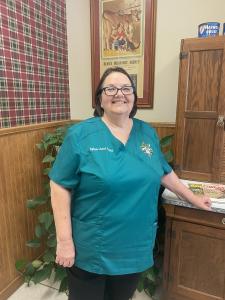 Lori
Say hello to Lori!
She's been with our clinic for the better part of a decade, and is a well known name and face. She cares deeply for her family and spends her time away from work going above and beyond for them.
Technicians
Melissa
Say Hello to Melissa!
She's been a technician for 20 years! She started at a clinic in Granbury, TX and has been with us for 13 years. She has 3 children, 1 grand child, and several animals of her own! She gives her all to her job and is loved and respected by our clients.
Kennel Staff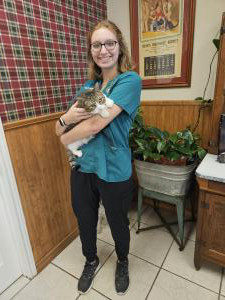 Audra
This is Audra!
She is a college student at TAMUCC where she is taking her basic classes before applying for vet school! When she's not in class or studying, she works in the kennels and gains valuable experince for her future career. We can't wait for her to complete vet school and come back here to be our future Veterinarian!
Groomer
Valerie
Hi there, my name is Valerie!
I've been a groomer for 15+ years in different parts of Texas, and now I'm proud to be a part of this wonderful team. I'm very passionate about my job and I strive to give your pet the spa exerience they deserve! Hope to see you soon!
Jack-of-all-trades
Jackie
Meet Jackie!
She has been with us for almost 1 year and turly is our "Jack-of-all-trades". Not only does she work as a receptionist, but she also helps our technicians when needed, and works in our kennels a well! She has several animals of her own, including her bird Janie. There's nothing that she can't do!
Veterinarians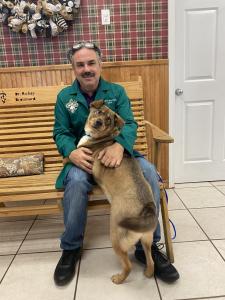 Dr. Rickey Broussard

Veterinarian
Dr. Broussard is a 1988 graduate of Louisiana State University. He enjoys the relationship that he shares with clients in an exam room setting. Internal medicine is his favorite part of the job, but he has a special interest in surgery as well.